Last Monday J Cole hosted a surprise private listening party for his new studio album on a first come first serve basis at Gramercy Theatre in New York City.  Despite there being no phones or cameras allowed in the concert, word of my mouth by the few lucky individuals that were able to listen to his album KOD built the anticipation all week. 
KOD (which stands for Kill our Demons, Kings Overdosed, Kids on Drugs) was rumoured to have been written and produced by J Cole in just two weeks. KOD is everything we as a society needed at this time and touched on topics ranging from race to consumerism and politics, with overarching themes of addiction and drug abuse. His words on this album paint vivid pictures about of the complexities of the human experience as well as his own behaviour and layers of thought. 
KOD broke Apple Music's and Spotify's record for the most first day US album streams with 64.5 million plays on Apple Music, a record previously held by Drake's Views, and 36.6 million plays on Spotify beating out Drake's More Life. 
If you're in need of some new Instagram captions though, look no further. Use these J Cole lyrics to caption your most artistic, thought provoking and political pictures. We picked out the 10 best lines for you to up your IG caption game below.
1. Choose Wisely - "Intro"
- Feeling philosophical? Prophet-like? Use this caption. 
2. I know heaven is a mind state, I've been a couple times. - "The Cut Off"
- The perfect caption to use on a pic of you being your most authentic and best self.
3. I know the punishment for you is that you're not with me - "The Cut Off" 
- Use this caption when you're feeling yourself and you're trying to flex on your ex. 
 4. Time will tell just who is on my side - "The Cut Off"
- This a great line to caption a much need appreciation pic of you with your long time squad.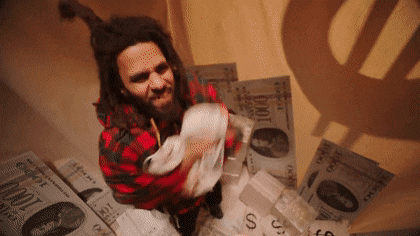 5. Cant take it when you die, but you cant live without it - "ATM"
- Show off those stacks you've been earning with these lyrics.
6. I like it natural, actual, factual, naps and shit. Boogie still do ratchet shit - "Motiv8"
-  Caption all your natural body, natural hair, natural face pics on the gram with this caption.
7. She got wife written all over - "Kevin's Heart" 
- Ladies, post a pic of you looking hella gorgeous and hella successful and use this line.
8. She my number one, I don't need nothing on the side - "Kevin's Heart"
- For the cutest couple pic of you and bae.
9. Meditate, don't medicate - "Friends" 
- The caption all you zen masters/yogis have been waiting for. 
10. Just remember what I told you when your shit flop, in five years you gone be on Love & HipHop - "1985" 
- Throw serious shade at your haters with this conversation ending diss line.
Please reload